Repairing Bowing Walls in Your Area
Bowing foundation wall is a matter of huge concern. Expansive soils and hydrostatic pressure on the walls from the outside cause foundation walls to shift inward. However, foundation walls can break owing to a variety of external factors, such as foundation settlement.
Cracks and bowing need immediate attention. It is best to call a professional foundation repair service provider to repair your leaking crack and make the foundation waterproof. This is where My Basement Repair Pros kicks in. We help you find the best bowing walls repair service providers in your area so that you don't have to worry about it any further. Call us today at 844-406-0501.
What Causes Cracks & Bowing in The Foundation Walls?
Frost damage causes the majority of the cracks. The concrete can actually shrink due to freezing temperatures. It can also be caused by moist soil putting too much strain on the foundation. The most essential thing to remember is that a bulging crack might indicate that the house is progressively slipping off its foundation and has to be repaired right now. But if there are large cracks, it is best not to handle personally as it might get worse. Here is a list of reasons that can cause a bowing wall: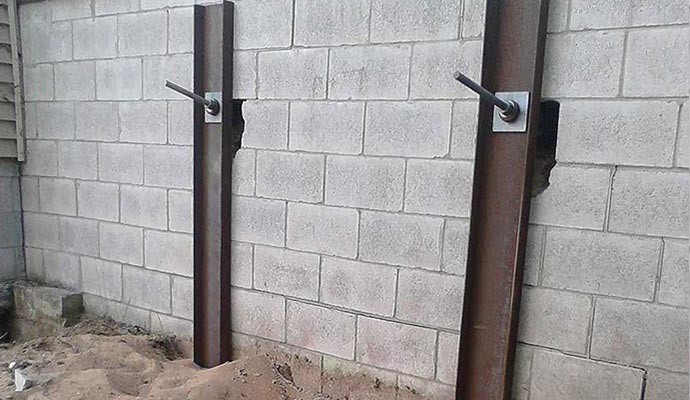 Cracking along the foundation walls that is horizontal or stair-step in nature.
Corners of poured concrete foundation walls have diagonal cracking.
At the top, the walls are leaning in.
Wet clay soils and deteriorated walls surround the house.
The building is surrounded by expansive clay grounds.
Bowing or bulging inward along the walls
On the bottom, walls are moving inwards.
Find Your Local Basement Waterproofing Contractors