Exterior Drainage Installation in Your Area
My Basement Repair Pro provides the most reliable exterior drainage installation services in your area. With the minds of our professional contractors and the skill of their teams, we provide patented and effective exterior drainage solutions so that you are safe from wet basement problems. Our method and technique are mastered over years of practice and are fully reliable.
Exterior Drainage Solution by My Basement Repair Pro
Water pressure in the ground is capable of cracking your foundation wall and can sometimes make the wall lean. The water outside threatens the structural integrity of your house. However, we offer to leak crack repair services to help you recover from water damages. We offer reliable methods of redirecting groundwater away from the foundation, keeping your house safe from the dangers of water intrusions.
Find Your Local Basement Waterproofing Contractors
Causes of Basement Leak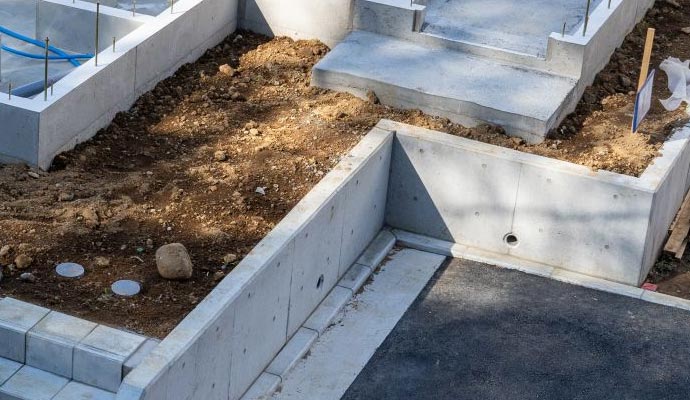 Excavation & & Backfilling

During the establishment of a basement foundation, a portion of soil is removed to make the space needed for the construction. Upon completion of the basement, the soil is backfilled against the wall of the basement. This soil is much looser and more permeable to water than the soil that has remained untouched. Meaning that this soil will absorb more water on rainy days, increasing the chances of water seeping through the basement wall.

Wall-Floor Joint

A small gap is usually created intentionally between the floor and the wall to prevent cracks from forming in the floor. Water under high pressure can penetrate this gap and seep in through the foot of the basement.

Footing Drain

Footing drains can sometimes be crushed during the backfilling process. Moreover, footing drains clog over time due to particles in the soil and become ineffective in the drainage of the water. The water then finds its way into the basement through small openings and gaps.

Leak in the Basement Wall

Various types of blocks used in the basement foundation have various chances of leaking. For instance, stone wall joints can weaken under immense pressure from the water, and create small gaps through which water can enter; the same happens with concrete block walls.
Why Choose My Basement Repair Pro?
My Basement Repair Pro screens and provides professionals who specialize in basement waterproofing, crawl space repair, crack repair, finishing, sump pumps, and other basement issues. These are local companies who have shown a track record of helping homeowners like you, make the basements dry and safe. Whether you have a finished or unfinished basement, we can provide the appropriate professional help in your area, to solve your basement issues. Contact us today or call us at 844-406-0501 to know further details.