Crawl Space Encapsulation Process
Crawl space damage is inevitable if water is allowed to accumulate there. Wooden support beams and subflooring might decay from the humidity in a crawl space. The crawl s[ace can be protected from dampness by being encapsulated. In addition to this benefit, encapsulation aids in preventing the entry of harmful insects such as termites.
My Basement Pros provides certified professionals who specialize in crawl space encapsulation. Our listed contractors provide effective services to their clients by analyzing the sources of the issue. Our listed local companies have a proven track record of helping homeowners like you in encapsulating and securing crawl spaces. Click here to find your local contractor.
How to Encapsulate A Crawl Space
A heavy-duty moisture barrier, sealed foundation vents, insulated walls, and a specialized crawl space dehumidifier are all parts of the crawl space encapsulation process. The expert crawl space specialists follow the following steps to encapsulate your crawl space.
Identify the problem: At the beginning, they thoroughly assess the crawl space to determine the type of problem.
Remove debris: Ugly insulation, ripped and inefficient vapor barriers, and critter waste is common in crawl spaces. They clean your crawl space thoroughly. In addition to that, they also remove any mold, mildew, or fungus-affected wood.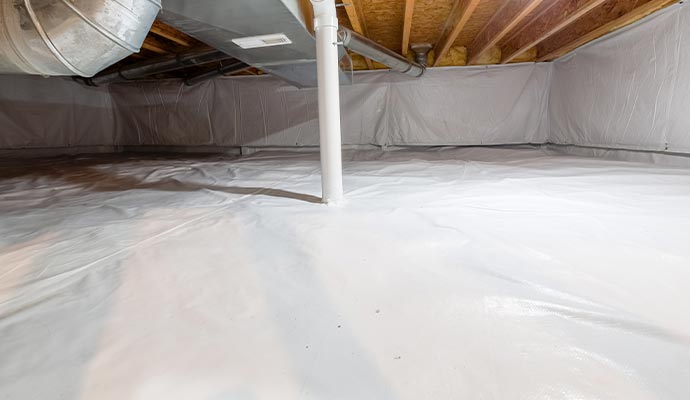 Control groundwater: Groundwater includes water runoff coming from the yard and water rising up in your crawl space when the ground is very saturated. If you have water in your crawl space, they'll remove them all using a sump pump.
Prevent moisture: The area of your crawl space is generally full of moisture. They'll isolate the area completely with a vapor barrier, which will make your crawl space durable.
Seal and insulate: Outside air brings moisture into the crawl space and creates a lot of problems. Our listed contractors seal and insulate all vents and foundation walls with solid insulation boards. They also seal the sill plates and fill all the gaps to prevent air from leaking in.
Keep crawl space air dry: Air carries moisture inside your crawl space. A combination of moisture and high temperature can lead to mold growth, mildew, fungus, and other desirables. Dehumidifiers take the moisture out of your crawl space.
Find Your Local Basement Waterproofing Contractors
Find Your Local Contractor through My Basement Pros
My Basement Pros can help you out by providing well-trained contractors who are experts at crawl space encapsulation. We provide the best local contractors who can also help you out with crawl space repair, ventilation, humidification, waterproofing, etc services along with encapsulation.
Contact us at 844-406-0501 to find your local contractor for crawl space encapsulation. Click here to get your local contractor.