Basement Windows Installation in Your Area
Making sure your basement windows & window wells are in good shape is key to keeping moisture and water out of your basement. Windows and window wells that are rusted and corroded can allow leakage from rain & snow, which can cause mold, mildew, and other problems. Leaves, dirt, and other debris can also clog the window well, causing flooding in the basement. This is why you must employ skilled professionals to install basement windows. My Basement Repair Pros is your go-to company for installing basement windows in your area, by professional contractors.
If you're considering finishing your basement or remodeling the space to include a sleeping area, you'll need to add windows to the basement. Windows also add extra light to your basement, making it more inviting. My Basement Repair Pros offers a full range of professionally installed basement window installation services and products to help keep your basement dry, all the time.
Basement Window Features: Hopper Window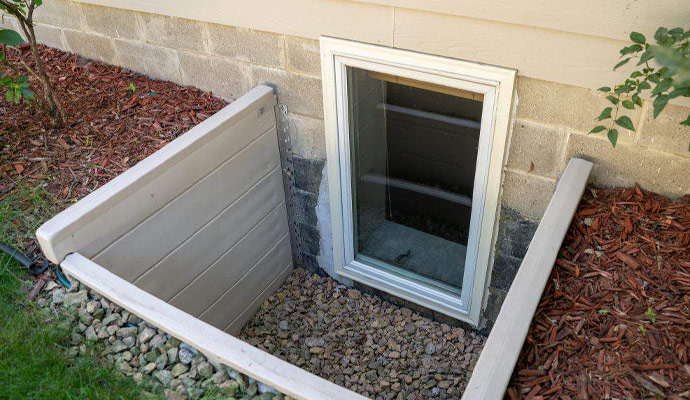 A basement hopper window is an excellent choice for basements, attics, and garages. It swings inward from the top and can be custom-made to fit your opening.
Durable mainframe and sash made with 100% virgin vinyl (uPVC) that never chips, peels, cracks, or warps.
Insulating glass units featuring double strength glass with optimal air space improve year-round performance.
Spacer System maximizes performance and longevity.
Locking hardware ensures a secure fit and peace of mind.
Triple-barrier weather stripping between the sash and jamb for superior protection from air & water infiltration.
Security is especially important when it comes to easily accessible basement windows. In addition to strong, fusion-welded frames, the basement hoppers feature a heavy-duty locking system for maximum security. So, don't take chances with cheap windows!
Find Your Local Basement Waterproofing Contractors
Why Choose My Basement Repair Pros?
My Basement Repair Pros screens and provides professionals who specialize in basement waterproofing, crawl space repair, crack repair, finishing, sump pumps, and other basement issues. These are local companies who have shown a track record of helping homeowners like you, make the basements dry and safe. Whether you have a finished or unfinished basement, we can provide the appropriate professional help in your area, to solve your basement issues. Contact us today or call us at 844-406-0501 to know further details.