Basement Flooring in Your Area
The basement is one of the most crucial parts of a building; in fact, the entire building's sustainability depends on the strength of the basement. This strength is defined, to a lot extent, by the quality of the flooring of the basement. Not only this, even the health issues of the inhabitants of the building, depends a lot on the basement flooring system, as mold & mildew are some of the most common issues with a damp or cracked basement that allows unwanted water & moisture.
Contact My Basement Repair Pro to have the most satisfactory basement flooring done in your area. Our team of professional contractors offers a variety of basement flooring options that are designed to provide comfort, durability, low maintenance, and beauty. Our flooring solutions include subfloor tiles, carpeted tiles, and vinyl-faced tiles designed that give the look of ceramic tile flooring.
Importance of the Right Flooring Materials
Choosing the wrong flooring material has direct consequences in the basement. Wood is a bad choice because it is so susceptible to mold and mildew. That's why wood sleepers, plywood subflooring, and wood-finished flooring options should always be avoided. Other materials like carpeting and carpet pads can be used in basements, but only if they are protected from moisture.
Find Your Local Basement Waterproofing Contractors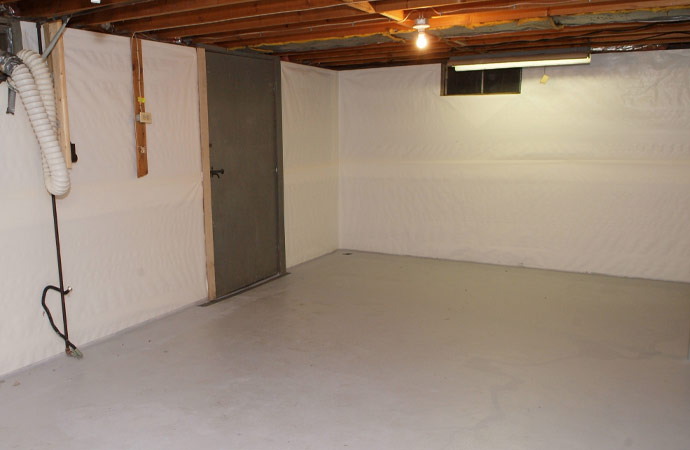 Flooring Options by My Basement Repair Pro
Our professionals use specialized basement floor covering systems that transform cold, damp, hard concrete floors into beautiful, dry, comfortable floors. Unlike typical carpet, tile, and wood flooring, these flooring treatments are made from inorganic materials that will not be damaged by moisture or support mold growth. We offer basement floor coverings in a variety of colors and styles. Contact My Basement Repair Pro to discuss all the available flooring options for your basement.
Why Choose My Basement Repair Pro?
My Basement Repair Pro screens and provides professionals who specialize in basement waterproofing, crawl space repair, crack repair, finishing, sump pumps, and other basement issues. These are local companies who have shown a track record of helping homeowners like you, make the basements dry and safe. Whether you have a finished or unfinished basement, we can provide the appropriate professional help in your area, to solve your basement issues. Contact us today or call us at 844-406-0501 to know further details.