Advanced Crawl Space Encapsulation Materials
Professional encapsulation is needed for crawl space to control moisture as it leads to structural damage. Adding a moisture barrier to the dirt floor, sealed foundation vents, insulated walls, and a dehumidifier are required for crawl space encapsulation.
Without proper materials, encapsulating a crawl space won't be easy and effective enough. Only the utilization of appropriate materials can provide you with a moisture-free encapsulated crawl space.
My Basement Pros has been providing professional crawl space encapsulation service providers for a long time. They have all the advanced materials which are necessary for this process. Contact My Basement Pros right away to get the fastest and most effective crawl space encapsulation service provider. Click here to find your local contractor.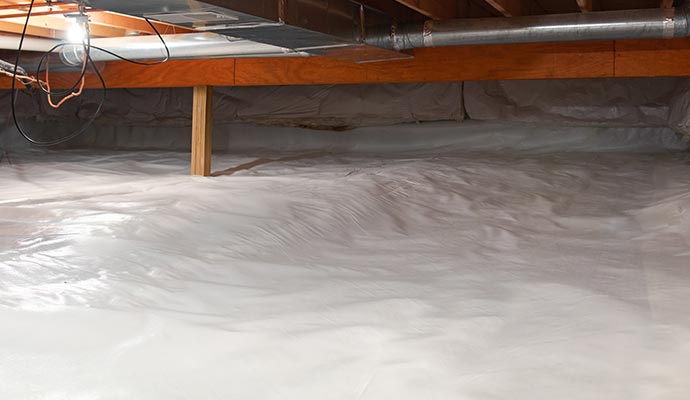 Crawl Space Encapsulation Materials
The preferred material for encapsulating a crawl space is a polyethylene vapor barrier reinforced with a polyester cord. It will cover everything in your crawl space, including the floors, walls, and sometimes even the ceiling. Your home's interior will be protected from outside elements like moisture, dust, and air with the help of this plastic vapor barrier. Besides this, some other necessary materials are listed below_
Seam tape with a vapor barrier
Construction tape with two sides
Bars of termination or other types of mechanical fastening
Screws for concrete
These are the common materials that are used by the certified crawl space encapsulation service providers at My Basement Pros.
Find Your Local Basement Waterproofing Contractors
Choose My Basement Repair Pros for Crawl Space Encapsulation
My basement repair professionals can help you find the best crawl space encapsulation service providers who use top-notch encapsulation materials. My Basement Pros is the best option for you as we have certified contractors who can assist you with crawl space encapsulation service.
Our listed contractors offer all other necessary crawl space repair services, including crawl space sealing, ventilation, humidification, waterproofing, and so on. Simply contact us at 844-406-0501 if you are looking for any of these service providers. To set an appointment or learn more, click here.