Spotting Warning Signs of Crawl Space Damage
Crawl space damage may not always appear instantly, such as when the structure of the ground floor begins to collapse. Instead, the damage is likely to be quite gradual and you may have difficulty spotting the warning signs of damage to your crawl space. At My Basement Pros, our network of talented technicians can help you keep an eye out for the earliest indications of a crawl space breakdown at your home or office.
When an issue surfaces, the vetted & licensed contractors who are part of our My Basement Pros network can help you find a local contractor in your immediate area who can visit your house and perform crawl space repairs. My Basement Repair Pro screens and provides professionals who specialize in basement waterproofing, crack repair, finishing, sump pumps, and other basement issues who work across the country, as well as in your neighborhood. To schedule a crawl space inspection with one of our contractors, call 844-406-0501 or contact us online today.
Common Warning Signs of Crawl Space Issues at Your Property
Many homes built with crawl space foundations suffer from poor moisture management which leads to structural damage. Some of the common signs of potential crawl space water damage include: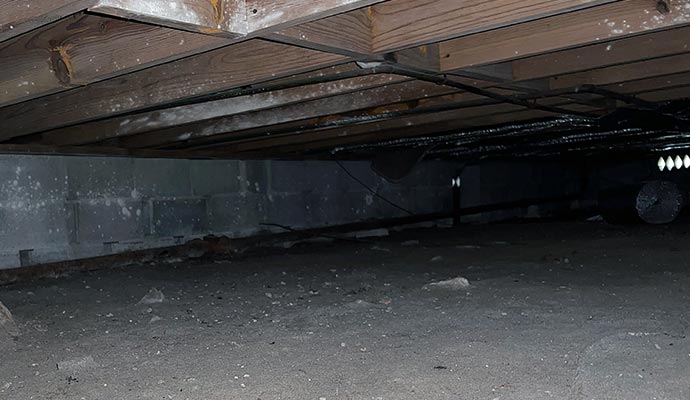 Mold & Mildew: Moisture causes mold and mildew.
Standing Water: Water accumulates in the crawl space.
Musty Odors: Musty odors suggest mold problems.
Sagging Floors: Weakened floor joists lead to sagging.
Wood Rot: Moisture triggers wood rot in beams and posts.
Cracks in Walls: Wall cracks are caused by moisture.
Increased Allergies: Mold & pests trigger respiratory issues.
Efficient and Affordable Crawl Space Repair Solutions
Throughout the USA and in your local area, you can protect your property from mold and excess moisture with the help of our contractors at My Basement Pros. Reach out to us to have one of the certified craftsmen within our network assess your crawl space issue and help with encapsulation or a ventilation system to address your crawl space moisture issues. For years, My Basement Pros has provided customers with access to the best contractors in your region. For more information, call 844-406-0501 or click here to schedule an appointment with one of our specialists to help you recapture a dry and healthy home.
Find Your Local Basement Waterproofing Contractors