Sump Pump Battery Replacement Providers in Your Local Area
Battery-powered sump pumps are a later innovation in sump pump design, free of external power sources. In areas with frequent power outages, sump pump owners find battery-powered sump pumps notably reliable during a storm, flood, overflow, backup, etc.
Any battery, however, can wear out or become unable to hold a charge or power what it's intended to run. For reliable, efficient sump pump battery replacement, turn to the professional network of basement waterproofing providers at My Basement Pros.
For assistance locating a My Basement Pros network provider in your local area for sump pump battery replacement, check our nationwide service areas. Our providers deliver solutions, best results, service and total satisfaction. Call us today at 844-406-0501 or contact us online to arrange a consultation with a My Basement Pros representative. Let us connect you to one of our top, certified providers in your local area.
My Basement Pros Local Providers Replace Sump Pump Batteries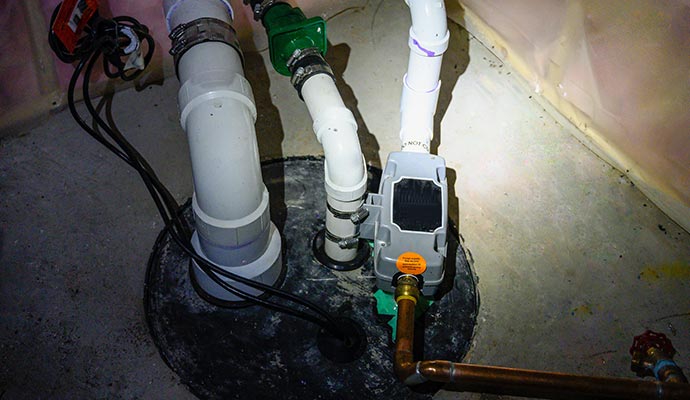 A sump pump battery backup or primary battery system, as a general rule, should be changed or upgraded every three to five years.
Routinely checking water level will help determine if your battery system is working properly, and if you should contact a local My Basement Pros provider for an overdue sump pump battery replacement. Battery terminals should be kept clean, and periodic replacement ensures that your primary or backup battery kits will function correctly and last as long as possible.
In the event of a power outage, circuit breaker failure, or primary sump pump malfunction, a reliable sump pump battery will ensure that your secondary pump continues redirecting water from your basement or property. Knowing when you need sump pump battery replacement is crucial for such scenarios. If you're unsure about your sump pump battery life, call us today at 844-406-0501 or contact us online.
Find Your Local Basement Waterproofing Contractors
Trust My Basement Pros For Best Sump Pump Battery Replacement in Your Area
My Basement Pros is a vast network of local, basement waterproofing providers across the country. We assist customers with sump pump battery replacement, sump pump power supply repair, sump pump repair and maintenance, sump pump installation, sump pump replacement, sump pit repair and maintenance, basement waterproofing, crawl space repair, moisture control, basement finishing, foundation waterproofing, and much more.
Call us today at 844-406-0501 or contact us online to book an appointment with a My Basement Pros provider in your local area.