French Drain Installation & Services in Your Area
A French drain (also called a weeping tile, drain tile, perimeter drain, or sub-surface drain) is a common solution for waterproofing a basement. It's a trench containing a perforated pipe that redirects surface water and groundwater away from the foundation. Improper and insufficient drainage leads to flooding, foundation, and structural damage, mold growth, and many other costly property damages over time, if not addressed right away.
Therefore, if you are having any drainage issues, you might be thinking a French drain can solve your problem. My Basement Repair Pro is your go-to company for French Drain installation and concerned services in your area.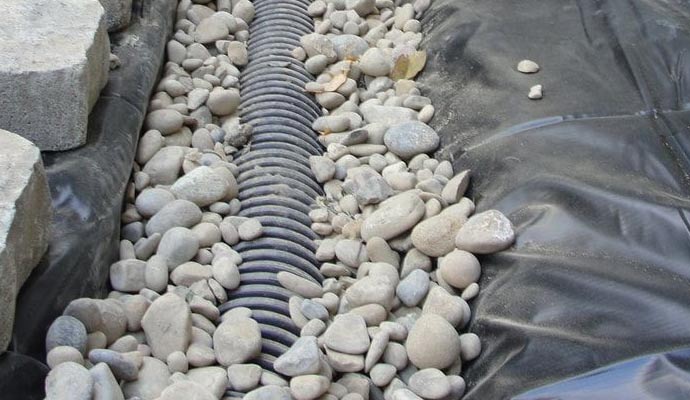 How Does a French Drain Work?
A French drain is a wide pipe with slits, installed deep into the ground around your home or business property perimeter. Unlike area drains that only collect surface water, a French drain collects both surface water and groundwater, and channel it away from the basement foundation. A French drain can handle excessive moisture from foundation soil and prevent any water intrusion.
Find Your Local Basement Waterproofing Contractors
Problems With Exterior French Drains
A French drain can be an effective option to redirect water, but it also has several disadvantages. Problems common with French drains include: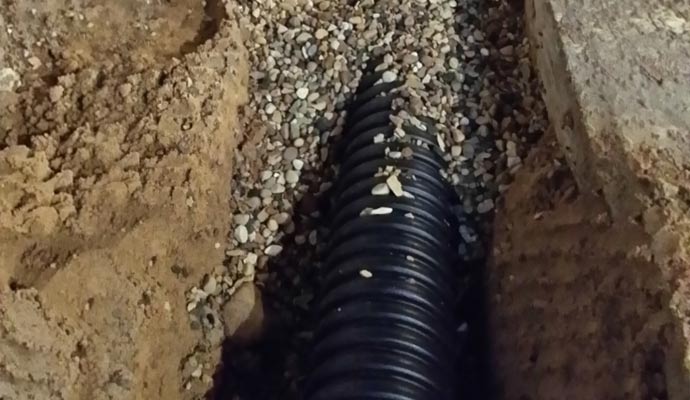 Difficult to install - A French drain is typically installed after a home is built in response to a wet basement problem. This requires digging around the foundation of the home. Any landscaping, such as shrubs and flower beds, as well as walkways, steps, decks, and porches that are outside the home, must be removed. Buried gas and water lines, sewer pipes, and electrical wires could pose hazards during digging.
Clogging - A French drainpipe that's clogged with silt, sediment, and other debris can clog and cause water to overflow or back up into the basement. Footing drains often become packed with dirt or filled with tree roots. Removing clogs from the pipe is an expensive job that requires digging.
Expensive to maintain - After a French drain is installed or serviced, the soil against the foundation can settle and will need to be re-graded. After about 10 years, you might need to repeat the entire process.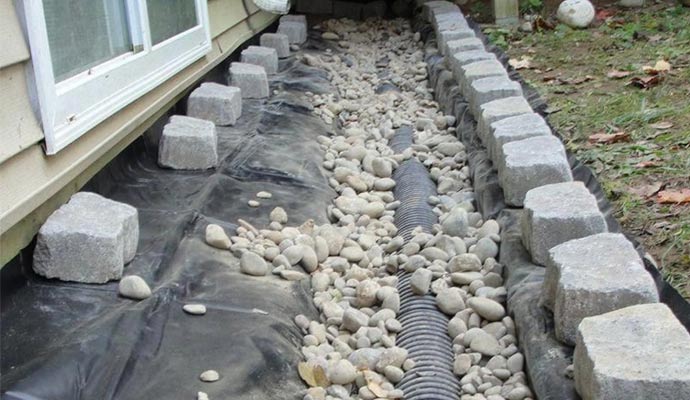 French Drain vs. GrateDrain™
Despite the effectiveness of driving water away from your basement, a French drain clogs over time by soil and dirt. Even if it doesn't clog, a new French drain needs to be reinstalled after every 10 years. Unclogging and re-installing a French drain, both involve manpower and digging the soil up, costing you a lot of money.
On the other hand, GrateDrain™ is an internal drainage system. It is installed along the interior perimeter of the basement to capture water when it enters and diverts away. It doesn't take much time to install GrateDrain™ and the whole system needs small maintenance work once a year. The installation and maintenance process doesn't cost much, also there is no risk of clogging. Therefore, a GrateDrain™ is more cost-efficient than a regular French drain.
Why Choose My Basement Repair Pro?
My Basement Repair Pro screens and provides professionals who specialize in basement waterproofing, crawl space repair, crack repair, finishing, sump pumps, and other basement issues. These are local companies who have shown a track record of helping homeowners like you, make the basements dry and safe. Whether you have a finished or unfinished basement, we can provide the appropriate professional help in your area, to solve your basement issues. Contact us today or call us at 844-406-0501 to know further details.