Downspout Extensions in Your Area
When you need to extend the downspouts on your home or office to provide better moisture control services, the company to contact is My Basement Pros. We provide all types of basement waterproofing and drainage solutions with the help of a pool of experienced professionals in your local area. Our network of skilled contractors will provide a craftsman who stays with you from start to finish, ensuring quality service and an effective system.
Most Common Types of Downspout Extensions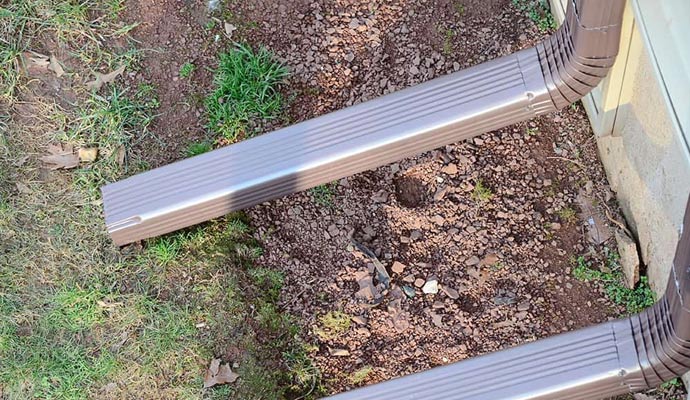 There are a few different types of downspout extensions that you can choose from. They all perform the same function, moving the water away from the home.
Aluminum Downspout Extension: The aluminum downspout extension is usually just another section of the downspout that is added on the bottom elbow. It runs horizontally and lets out in your yard away from the home. They rest on the ground. However, you can also prop them up with other gutter sections if you need to get over any obstacles. This is a more stationary option. Once these are set in place, there is no moving them for lawn mowing or anything like that. We would recommend these if you are extending your gutters in a straight line with no obstructions in the way.
Corrugated Flex Pipe: The corrugated flex pipe is the most common option for downspout extensions. These are very easy to maneuver in any way that you want them. And you can position them anywhere. You could point this extension to the middle of your yard one day, and once it gets too saturated from rain, go ahead and position these in another area away from the already soggy spot. You can even pick these up to mow around and do other landscape tasks.
Underground Drainage System: Underground Drainage Systems are technically an extension of your downspout and gutter system, so we included them on our list. Basically, they are Corrugated Flex Pipes or PVC Pipes that are installed underground and lead the water away from your home. They usually lead to the street, sidewalk, or even straight into the sewer system. Sometimes you need to re-direct the water all the way to the street. However, having all those pipes above the ground will turn your yard into an obstacle course. That is why you see a lot of homes with this type of downspouts installed. They keep the yard from becoming oversaturated while keeping the extension pipes hidden from view.
Find Your Local Basement Waterproofing Contractors
Why Choose My Basement Pros for Downspout Extensions?
My Basement Pros screens and provides professionals who specialize in basement waterproofing, crack repair, finishing, sump pumps, and other basement issues. These are local companies who have shown a track record of helping homeowners like you, make the basements dry and safe. Whether you have a finished or unfinished basement, we can provide the appropriate professional help in your area, to solve your basement issues. Contact us today or call us at 844-406-0501 to know further details.