Crawlspace Conversion Services
As homeowners with a crawl space know, they aren't very useful when it comes to storage space. And, they attract mold, mildew, water problems, and, quite often, rodents and wildlife. Plus, homes with crawl spaces sell for less than those with basements. A Crawl space conversion, also known as a "dig out" can literally transform your cramped, musty old crawlspace into a basement.
My Basement Repair Pros is your go-to company for availing of crawlspace conversion services in your area. We have a team of expert technicians to provide our customers with the most professional services that will not only match but also exceed your expectations. We provide excellent waterproofing services including drainage systems, sump pump installation, crack repairs, and more.
What is a Crawl Space Conversion or Dig Out?
A conversion, or dig out, is the process of digging out the area beneath your home where your crawlspace is. We dig the area to a depth of 7 – 9 feet, or the size of a full basement, and can provide access to an outside entrance with pre-fab doors. A concrete or cement floor and walls are put in place, giving you a solid foundation and fresh, dry basement.
Benefits of Crawl Space Conversions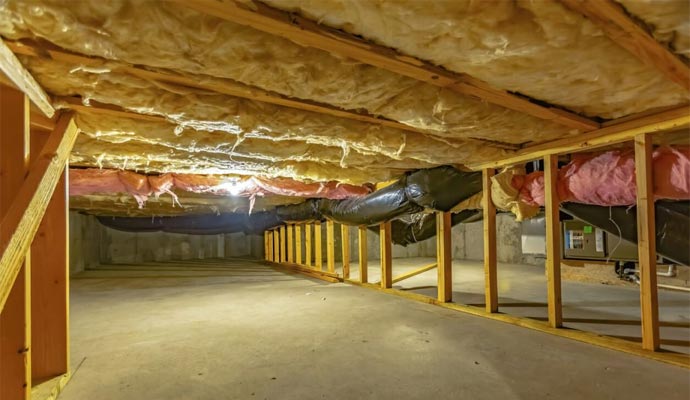 Vastly Increased Storage Space: One of the biggest advantages of a crawl space conversion is the vastly increased space for storage.
Increased Home Value (and Re-Sale Value): Digging out your crawlspace and converting it into a basement is a sure-fire way to dramatically increase the value of your house.
Dramatically Increases Living Space: Rather than just adding a plain basement, many people use their crawlspace dig-outs to convert to a functional, multi-room floor on their home! They add a basement but also add a bathroom, kitchen, living room, bar, home office, etc. to that new basement.
Decreases Energy Costs: A new, waterproofed, and energy-efficient basement cuts down on the energy waste caused by crawl spaces, saving you money on your energy bills plus helping the environment.
Why Choose My Basement Repair Pros?
My Basement Repair Pros screens and provides professionals who specialize in basement waterproofing, crack repair, finishing, sump pumps, and other basement issues. These are local companies who have shown a track record of helping homeowners like you, make the basements dry and safe. Whether you have a finished or unfinished basement, we can provide the appropriate professional help in your area, to solve your basement issues. Contact us today or call us at 844-406-0501 to know further details.