Crawl Space Foundation Problems Repair
Crawl space foundation problems can pose serious structural and environmental issues on your property. Repairing crawl space foundation issues starts with moisture control, structural stabilization, and insulation to create a healthier and more stable environment at your home or office.
To fix this issue, you need professionals to assess the specific problems. My Basement Pros is a network of notable local contractors who have banded together in a nationwide network that helps homeowners and business owners find crawl space technicians they can trust for their homes, offices, or rental properties. By reaching out to us, we can put a client in touch with a licensed, vetted, and insured contractor who can repair your crawl space to protect against foundation problems. Our technicians also provide encapsulation, waterproofing, ventilation, and other services. To learn more, call us at 844-406-0501 to or click this link to find your local contractor today.
Signs of Crawl Space Foundation Problems at Your Property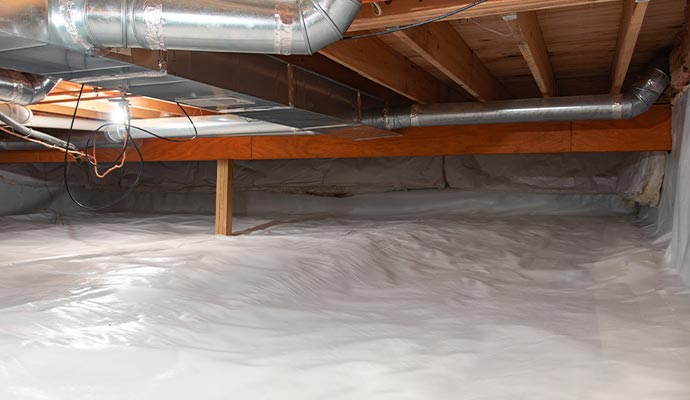 Crawl space foundation problems can become serious structural issues when left unaddressed. Some common signs to monitor in efforts to avoid foundational issues include:
Uneven or sloping floors inside your home.
Bowing or sagging floors.
Cracks in walls, or stair-step cracks.
Difficulty in opening doors and windows.
Gaps or spaces between doors/windows and their frames.
Excess moisture or standing water in the crawl space.
Sagging or uneven floors suggest pier or beam damage.
Importance of Crawl Space Repair to Solve Foundation Problems
Crawl space repair plays a crucial role in solving foundation problems because it:
Prevents moisture damage
Saves structural integrity
Boosts indoor air quality
Increases energy efficiency
Minimizes pests
Enhances property value
Mitigates health risks
Eliminates odors
Contact My Basement Pros to Fix Foundation Flaws
When you notice any signs of a crawl space foundation problem at your home or office, it is essential to repair it. My Basement Pros has enlisted legions of renowned local crawl space repair experts ready to tackle such problems as part of a national network to help homeowners and business owners in need of their services to protect their crawl spaces. To learn more, call us at 844-406-0501. You can also click here to find your local contractor today.
Find Your Local Basement Waterproofing Contractors