Basement Wall Panel Installation
The professionals of My Basement Repair Pros in your area offer basement walls made with plastic panels that are superior to soft insulation wall finishing systems for basements. Each of our basement wall products has been designed to fit a different need for your home. Whether you're interested in insulating your walls, finishing the basement, or you're just tired of looking at those ugly walls, we have a great solution for you!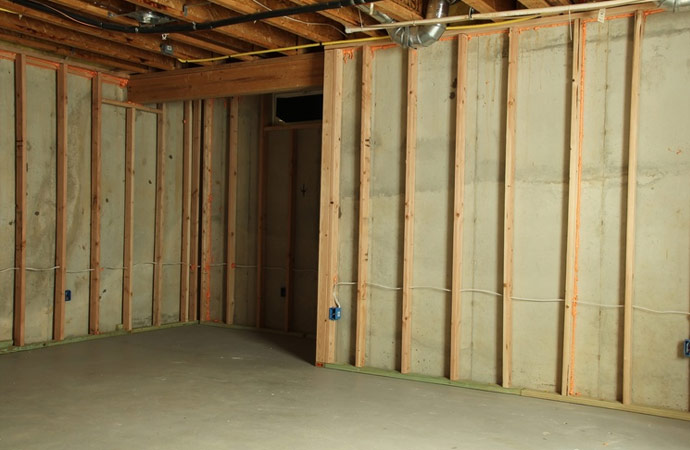 Panels vs Other Wall Products
Wooden framing can rot and get moldy while metal framing is prone to rust and weakens the insulative quality of buildings it has been installed in. This means that heavy shelving, cabinets, large pictures, a flat-screen LCD or plasma TV, and more can easily be installed on the panels without worry or the need to search the walls for wall studs.
Moreover, wall Panels are a great way to upgrade ugly basement walls to add beauty, warmth, and value to space. Whether you're installing this wall product on every part of your basement or you want to upgrade a utility & storage area in a finished basement, this is a great option for you.
Find Your Local Basement Waterproofing Contractors
Advantages of a Panel Basement Wall System
Quick and efficient installation
No painting required
Electrical outlets are easy to incorporate
Vinyl surface is attractive, stain-resistant, and easy to clean.
Panels can't be damaged by moisture and will prevent mold and mildew growth
Rigid foam insulation will not absorb moisture, settle, or compress over time
Framing is not needed; wood or metal studs are not required
More energy efficient than a wall built with studs and insulated with fiberglass batts
Panels are available with finished faces on both sides for partition walls
Plastic baseboard and crown molding are 100% waterproof that are used to trim out walls and will not support mold
Why Choose My Basement Repair Pros?
My Basement Repair Pros screens and provides professionals who specialize in basement waterproofing, crawl space repair, crack repair, finishing, sump pumps, and other basement issues. These are local companies who have shown a track record of helping homeowners like you, make the basements dry and safe. Whether you have a finished or unfinished basement, we can provide the appropriate professional help in your area, to solve your basement issues. Contact us online today or call us at 844-406-0501 to learn more about our basement waterproofing services near you.