Crawl Space Access Doors Installation Service
If you have a crawl space in your home, you know that it can be a difficult space to access and maintain. This is true if you don't have a proper access door. Having an access door installed makes it much simpler to enter and exit your crawl area. This will allow you to respond faster to maintenance needs and emergencies like broken pipes or pest infestations.
My Basement Pros is the company to call when you need the most professional crawl space access door installation service. The skilled specialists we employ are dedicated to meeting and exceeding the needs of our clients. Whenever you need services for crawl space access, simply dial 844-406-0501. We'll connect you with the best local contractor in your region.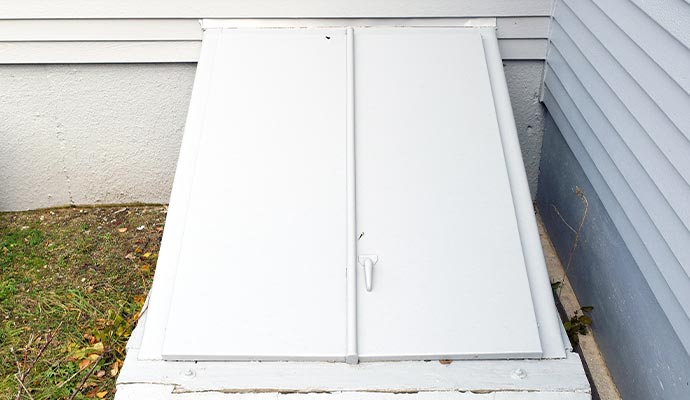 Types of Crawl Space Doors
There are typically two types of crawl space doors most homeowners prefer. These are:
Exterior crawl space doors: Crawl space exterior doors are the only way to prevent unwanted visitors from entering your crawl area. The majority of them are made out of PVC, stainless steel, or wood. Some of them are even watertight, and their durability is unparalleled.
Interior crawl space doors: Doors for the interior of a crawl space resemble external doors but are better suited for use from the interior of a building. Some are painted to match your walls, while others have a protective stain to enhance the wood's natural appearance. You can have them in the same variety of materials as standard outside crawl space doors.
Benefits of Crawl Space Doors
The followings are the advantages of crawl space access doors:
Cost savings: A crawl space door lowers moisture and humidity in your crawl space and home. Blocking wind and rain from your crawl area prevents excess moisture and saves money on HVAC.
Reduces moisture: These doors often have a strong, waterproof seal, which helps keep the crawl space dry. This seal keeps insects or other pests, including termites & rodents, out of your crawl space.
Improved air quality: Crawlspace air circulates throughout the property. Mold and mildew only thrive in damp circumstances, therefore minimizing moisture around your home's foundation will enhance its air quality.
Install Crawl Space Access Door with My Basement Pros
Our company has a pool of experts, serving in basement waterproofing, foundation waterproofing, basement finishing, sump pumps, and other services. No matter what your home's crawl space is like, we can help you find the best local service provider who can help with crawl space access door installation. Feel free to contact us at 844-406-0501 for any further information you may require. To get a suitable contractor in your area, please visit this link.