Sump Pump Brands My Basement Pros Offers
My Basement Repair Pros provides installation of top-rated sump pump brands in your local area. Sump pumps play an important role in keeping a basement or crawl space dry, and healthy. Thus, we present our customers with certified and authentic sump pumps they can rely on. Expect high performance and durability from all of our installations.
Why Choose My Basement Repair Pros
We screen and provide My Basement Repair Pro Contractors who specialize not only in sump pump installation but in basement waterproofing, crawl space repair, and moisture control services as well. We have the equipment, experience, and expertise to provide complete care and ensure your basement is dry and safe. Whether you have a finished or unfinished basement, we can provide the appropriate professional help in your area. Call us now at 844-406-0501 or click here to schedule your appointment with our specialists.
Exclusive Sump Pump Brands
We are partners with industry-leading sump pump manufacturers and thrive to bring the very best to our customers. Our exclusive sump pump brands include:
Little Giant
Zoeller Pumps
Champion Pumps
Liberty Pumps
Goulds Pumps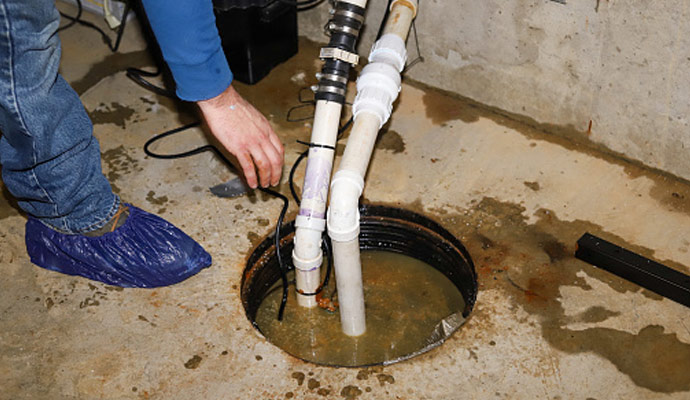 We Have Options for Battery-Backup Sump Pumps
Our high-performance sump pumps come with an additional battery-backup option that is available for homeowners to take. A battery backup will ensure your sump pump is running even during power outages. This may not sound much but is crucial to protect your home through rainy days when the electricity goes out.
Contact Us Today for Quality Sump Pumps
A sump pump installed by our My Basement Repair Pro Contractor in many homes in the basement or crawl space act as a preventative measure to avoid indoor flooding and water damage. It is one of the easiest and most cost-effective ways to put an end to flooding or wetness below the home. When you want a sump pump for your basement or crawl space, call us at 844-406-0501 for certified products and professional installation.
Find Your Local Basement Waterproofing Contractors