Dehumidification Services to Avoid Mold in Wood Crawl Space
Mold in the crawl space is a concerning issue, and if it is a wooden crawl space, then molds are more likely to form. Mold feeds on organic materials like wood, and since crawl spaces are frequently moist and humid, mold may develop there easily. This can lead to structural damage, unpleasant odors, and potentially harmful health effects.
But you need not to worry. My Basement Pros has a list of contractors who will help with superior crawl space repair services. Plus, they work on dehumidification services to extract that extra moisture from your crawl space. This will make your wooden crawl space dry and free from molds. Call us at 844-406-0501 to get further information.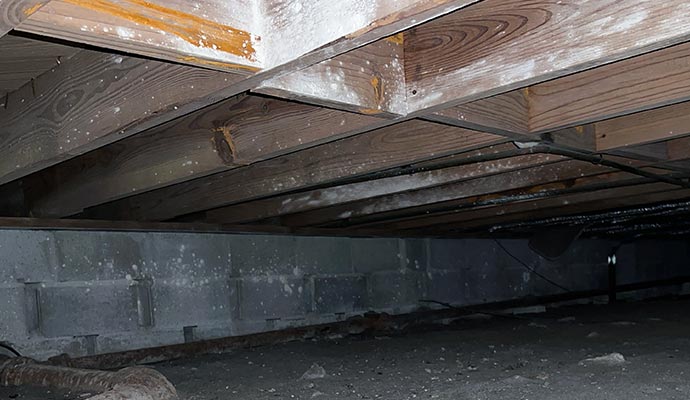 Signs of Mold in Wood Crawl Space
A wood crawl space may exhibit several signs that point to the presence of mold, such as:
Even before obvious mold signs are present, mold growth frequently leaves a potent, musty odor.
The wood surfaces in the crawl space could get stained or discolored due to mold growth. These colors are frequently seen as green, black, or white.
Mold can show up as black or dark spots or as slimy or fuzzy growths on the wood surfaces in the crawl area.
If the crawl area is overly humid, this could create the ideal environment for mold growth.
Wood surfaces may warp or buckle over time as a result of mold growth, which can be spotted in the crawl space.
Contact My Basement Pros to Get The Best Crawl Space Repair Service Providers
At My Basement Pros, we understand how important your home is to you, and you would always want to keep it in good shape. For this reason, we recommend top-notch service providers to deal with any issues you may have with your wooden crawl space. Our listed contractors are also vastly experienced in other crawl space repair services:
Dial 844-406-0501 or click here to find your local contractor.
Find Your Local Basement Waterproofing Contractors