Issues with Crawl Space Ventilation in Your Area
The condition of your crawl space has a major impact on comfort, energy efficiency, home value, and indoor air quality. The condition of your crawl space really does have far-reaching effects that can cost you money while also compromising the value and safety of your home. Many of these issues have to do with crawl space ventilation.
My Basement Repair Pro is the most trusted company in your area for solving issues with crawl space ventilation, executed by our expert professional contractors.
Issues with a Vented Crawl Space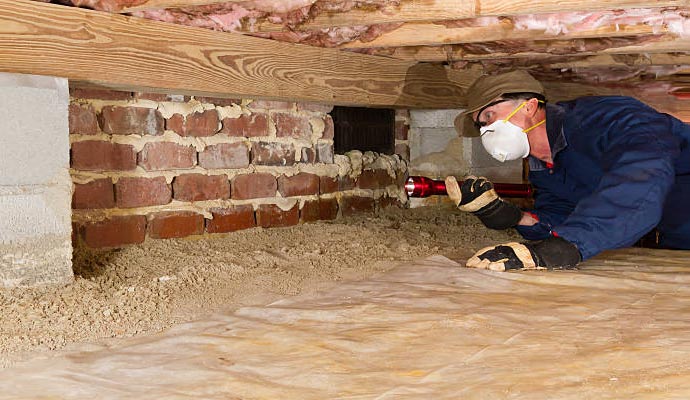 Construction workers have always favored crawl spaces because they're faster and less expensive to build than a full-blown basement foundation. This type of traditional crawl space utilizes openings or air vents in the crawl space walls so that the air outside can circulate underneath your living space.
If there is any insulation installed, you may find it in the form of fiberglass batts, placed between crawl space joists, while the crawl space's floor will be made of soil or concrete. Having this type of crawl space can be troublesome over time, as during the summer, warm and moist air can enter the crawl space, condensing on the cooler crawl space surface. When the crawl space continuously receives this warm air, it can cause moisture to form, which invites mold to grow and causes wood to rot.
The presence of wet wood can also attract insects such as termites and carpenter ants, who want nothing more than to chew up the wood and terrorize your home. Additionally, the fiberglass insulation easily absorbs moisture and may sag or fall out of place, settling onto the crawl space floor. In winter, there's a new set of problems: the floors become too cold because of the wet and missing insulation, meaning higher heating bills.
One factor that isn't determined by season is the indoor air pollution that can cause respiratory problems, because of the mold spores that enter the living space through the cracks and gaps in the walls and floors of the crawl space.
Find Your Local Basement Waterproofing Contractors
Why Choose My Basement Repair Pro?
My Basement Repair Pro screens and provides professionals who specialize in basement waterproofing, crawl space repair, crack repair, finishing, sump pumps, and other basement issues. These are local companies who have shown a track record of helping homeowners like you, make the basements dry and safe. Whether you have a finished or unfinished basement, we can provide the appropriate professional help in your area, to solve your basement issues. Contact us today or call us at 844-406-0501 to know further details.