Interior vs Exterior Water Drain
Interior or exterior water drains are installed so that the drainage becomes more effective and convenient for the house. No matter which system you choose, the first thing that is required is to find the best contractor who can provide the solution for the water drain system at an affordable price.
Here at My Basement Repair Pros, we provide the best contractors, and professionals are equipped with the best modern equipment providing excellent water drain installation solutions in your area. So make sure to call us today at 844-406-0501 when requiring our services.
Comparing Interior vs Exterior Water Drain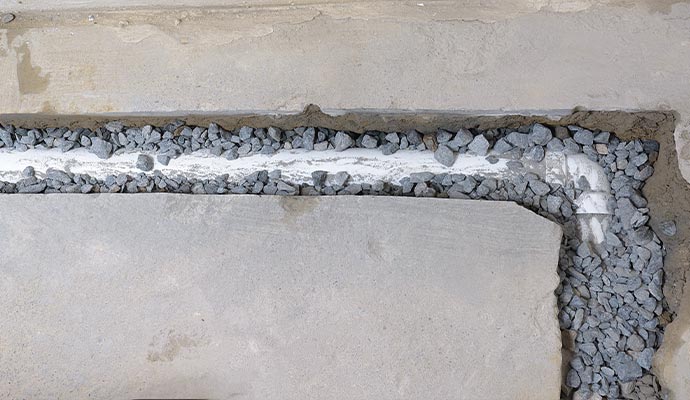 Exterior drainage systems are difficult to access and maintain. If anything goes wrong, it's difficult to identify and correct the issue quickly. Lastly, but certainly not least, the cost of an exterior system might be many times larger than the cost of an inside system. It is encouraged to do exterior drainage systems on existing properties unless in severe circumstances because of the costs, the mess, and the difficulties of maintaining such systems.
Interior footing drains are the most effective remedy for the vast majority of moist basements. It is possible to eliminate the slab's edges using this sort of technology. The foundation is then surrounded by a trench that is excavated around the perimeter. Crushed stone is then put over the perforated pipe in the trench to complete the construction. After that, concrete is poured over the trench.
Therefore, whatever method you pick, be sure to install drainage throughout the whole basement, even if just a portion of the basement seems to be leaking at a given time. If you're not confident in your ability to repair your basement, you should hire a basement-waterproofing specialist from My Basement Repair Pros.
Find Your Local Basement Waterproofing Contractors
Trust My Basement Repair Pros for Superior Water Drain System Solutions
My Basement Repair Pros have been reliable in providing the best professionals in your area. Our contractors provide other important services such as Basement Drainage, Entryway Drainage etc. For such reliable services at an affordable price call us at 844-406-0501 or contact us online to know further details!