Vertical Cracks Repair
Vertical cracks are one of the most prevalent forms of foundation issues, and they may quickly grow and cause difficulties for your foundation. If you see a crack shooting vertically towards your wall or ceiling, it was most likely caused when your house's foundation was first built. These gaps are known as shrinkage cracks because concrete shrinks as it cures.
This is why you'll require My Basement Pros' assistance in helping you to find the most experienced and trustworthy contractors for the finest possible vertical crack repair services for residential and commercial clients. For more information, contact at 844-406-0501. Click here to find your local contractor now!
Vertical Cracks Vs. Horizontal Cracks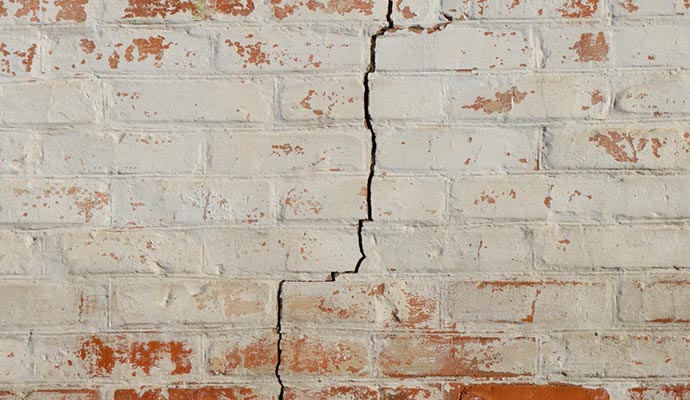 There are various sorts of foundation damage that can occur to your property.
Vertical and horizontal cracks are two of the most significant foundation cracks. For repairing such damage you need to understand the difference between them.
The majority of vertical cracks in a home's walls are less than 1/8 inch wide and emerge in the center of the walls. These are simple to correct and should be covered to keep pests, water damage, and other problems at bay. Vertical cracks that are wider or in a different position might indicate a more severe problem that requires professional assistance.
Horizontal cracks extending across your foundation and walls are among the most problematic damage in your house. Excessive water pressure from the outside causes the majority of horizontal cracks. It has the potential to compromise the stability of your foundation. Horizontal fracture in a foundation slab is one of the most dangerous forms of horizontal cracks. They tend to grow and deteriorate the slab, possibly causing it to collapse.
Find Your Local Basement Waterproofing Contractors
Why Choose the Contractors of MY Basement Pros for Vertical Crack Repair
Vertical cracks might get serious if not properly handled, and only experts can deal with such delicate issues. My Basement Pros handpicks and connects you with foundation and basement repair experts in your area. Our professionals offer services like basement waterproofing, crawl space repair, sump pumps, and other foundation issues. We can provide the necessary technical assistance in your area to resolve your foundation issues at a fair cost. Please contact us right away or call us at 844-406-0501 for further information. Click here to find your local contractor!