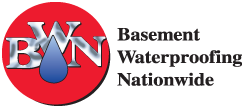 Basement Waterproofing Nationwide, Inc.
Basement Waterproofing Baltimore Maryland
Wet basements are no fun. In fact, wet basements can be frustrating and even frightening when you consider the damage water can do. Fortunately, you have found us. We not only fix wet basements, cracked walls and foundations, but we also help you understand why they are wet or cracked, as well as the whole process of fixing them. We are here to help! Browse our foundation waterproofing resources or contact us right away to set up a free, no-obligation, onsite visit. You will be surprised how painless this can be.
Services
Basement Waterproofing
Foundation Repair
Our promise to you on our basement waterproofing solutions.
We market, sell and install waterproofing solutions. We execute over 56 different methods and/or materials every day with our own employees and never subcontract that work to another. That means you can expect to receive what you were promised. We are a family-owned and run local business serving the greater Baltimore, Md / Wilmington, DE area. We are not a franchise nor are we an exclusive dealer of anyone's product. As such, BWN will introduce you and your basement to the entire array of products and services available on the market today. That way we can solve your wet basement problem with the right method at a price that's right for you.
Affordable basement waterproofing and foundation repair solutions to help you sleep through the storm.
Since 1987, BWN has been in the business of making damp and wet basements dry without costly excavations. BWN is a licensed and insured, locally and nationally recognized basement waterproofer. We are the first basement waterproofing company to be awarded the Better Business Bureau's "Torch Award" for outstanding ethics in the marketplace. BWN is the only waterproofer to win that award twice.
---
Services Provided by Basement Waterproofing Nationwide, Inc.
Basement Waterproofing
Foundation Repair
---
Customer Review for Basement Waterproofing Nationwide, Inc.
(5.00 out of 5) -
1 review
Positive: Professionalism, Punctuality, Quality, Responsiveness, Value Steve is running an absolute first class operati...
Review Source:
Location and Contact Information of Basement Waterproofing Nationwide, Inc.
109 E. Wheel Road

Bel Air, MD 21015

In Business Since: 1987
Areas Served by Basement Waterproofing Nationwide, Inc.