Different Types of Sump Pump Installation
Every basement needs a good sump pump installed to keep the basement dry. Because usually, basements are prone to flooding and water damage. So to protect the basement and the overall well-being of the construction, a good quality sump pump installation is necessary. There are many different types of sump pumps available. But which one is best for your basement can only be determined by experts. 
So when you need sump pump installation, our trusted contractors have different types of sump pumps available for your convenience! Call us at 844-406-0501 to know more information. Click here to find local contractors now!
Different types of Sump Pumps
Here is a list of a few different types of sump pumps-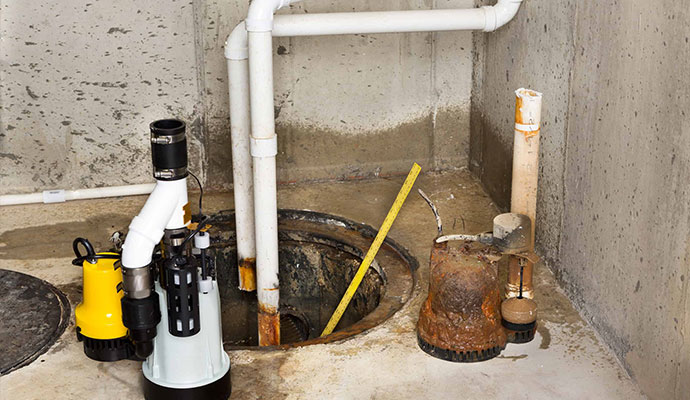 Submersible Sump Pump- Pump body and motor are combined in these electric-operated pumps. They're buried in the sump pit's water, which keeps the pump from overheating and allows it to run longer. They also make your basement aesthetically pleasing. They have a high-power motor with the ability to pump thousands of gallons of water hourly.

Pedestal Sump Pump- Pedestal sump pumps are less potent than submersible sump pumps, and they are noisy. Unlike submersible sump pumps, they are elevated on the sump pit to protect their engine. So the maintenance and repair works are accessible for these types of sump pumps.

Battery Backup Sump Pumps- Sump pumps with a battery backup are a total lifesaver. They are electric, but they can use their battery to run when there is a power cut. So this makes these sump pumps quite lucrative.

Water-powered Sump Pumps- Another great type of sump pump is a water-powered sump pump. They run on the pressure source of municipal water. So they are a great help in a power outage. Most of the time, water power sump pumps are used as backup sump pumps.
Effluent Sump Pumps- A lift pump is another name for this pump. Effluent pumps are frequently confused with sewage pumps. However, they fulfill very different functions. If properly maintained, these pumps may last a long time.
Find Your Local Basement Waterproofing Contractors
Rely On Our Contractors for Different Types of Sump Pumps Installation
My Basement Pros selects and connects you with experts who are experts in not just sump pumps but also basement waterproofing, crawl space repair, basement finishing, and other basement difficulties. These are local businesses with a history of assisting homeowners like you in keeping their basements dry and safe. We can give the appropriate expert aid in your region to solve your basement concerns. To learn more about our services, please contact us online or call us at 844-406-0501. Click on this link to find local contractors from your area!