Why Install Sump Pump?
Many homeowners have sump pumps installed in the basement or crawl space as a preventive precaution to keep their basements and crawl spaces from flooding and causing damage. It is one of the most straightforward and cost-effective methods of putting an end to flooding or moisture under the house.
A comprehensive installation of a sump pump system, as well as other moisture management services, are provided by the professionals at My Basement Repair Pros in your area. If you want to install one today then make sure to call us today at 844-406-0501.
Benefits of Installing a Sump Pump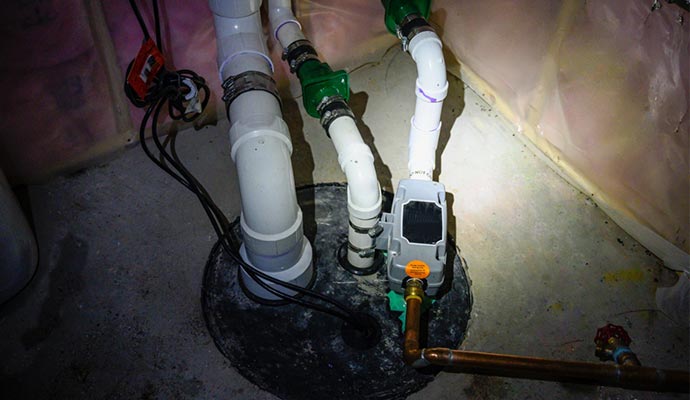 Installing a sump pump has many benefits. The benefits are as follows-
Prevent Water Damage and Flooding: A sump pump can assist you in preventing flooding in your house by directing water away from the foundation of your property. This, in turn, serves to reduce the likelihood of water damage occurring to your house and belongings as a result. Keeping water away from your property also helps to avoid long-term damage that is often caused by excessive dampness or pooled water.
Reduce mold and mildew: The presence of standing water encourages the formation and growth of mold and mildew. It is possible that they may create structural damage as well as health complications for anybody who has allergies or respiratory problems. Sump pumps assist to reduce the issue of standing water, which helps to avoid the spread of mold and mildew in the home or business.
Prevent Pest Infestation: Living in a house that is plagued with insects or rodents is one of the most unpleasant experiences a person can have. Basements that are moist are a breeding ground for insects and vermin, so installing a sump pump can assist to keep infestations to a bare minimum. 
Find Your Local Basement Waterproofing Contractors
Choose My Basement Repair Pros for Installation of Sump Pump
My Basement Repair Pros is a certified company that provides the best and most reliable professionals who specialize in Sump Pump Alarm, Sump Pump Replacement, etc. in your area. So if you are interested in our efficient sump pump installation services, then call us 844-406-0501 or click here to learn more about our services!