Installing More Than One Sump Pump
If you are wondering whether you need to install more than one sump pump? Maybe you posed this question to yourself because of your flooded basement. It all depends on how your current sump pump is performing. A battery backup is recommended for power outages and basements or crawlspaces prone to flooding. A second sump pump is advisable to protect you from the mechanical failure of your primary sump pump.
The professionals of My Basement Repair Pros provide complete installation of a sump pump system near you. Installing more than one sump pump installed in many homes in the basement or crawl space can help reduce the potential threat of dying or not being able to handle that big rainstorm. It is also a preventative measure to avoid indoor flooding and water damage. They're a key factor in keeping your basement and crawl space dry. Contact us today or call us at 844-406-0501 to learn more about My Basement Repair Pros.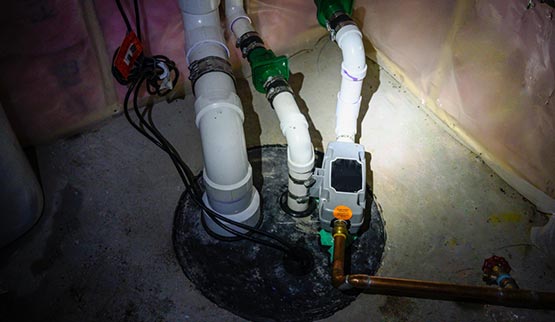 Some Reasons for Installing More than One Sump Pump
There are so many reasons for installing more than one sump pump. Those are:
The power goes out.
Not enough battery backup.
Your sump pump decides it is time to die!
Your sump pump can't keep up with the water coming in.
Find Your Local Basement Waterproofing Contractors
Why Choose My Basement Repair Pro?
My Basement Repair Pros screens and provides professionals who not only specialize in sump pumps but also basement waterproofing, crawl space repair, basement finishing, and other basement issues. These are local companies that have shown a track record of helping homeowners. Whether you need one sump pump installation or more than one, we can provide the appropriate professional help in your area to solve your sump pump issues. Contact us today or call us at 844-406-0501 to find out further details.