Sump Pump Inspection Services in Your Area
When water enters your crawlspace or basement it becomes the most important to redirect the water away from your home. Sump pump systems come in very handy in this kind of situation. They work by collecting water from below the basement or crawlspace floor and pump it away. However, in order to keep your sump pump working properly for years, a routine inspection is very much needed. Otherwise, the pump will fail to channel the water away, making the crawlspace or basement damp, moldy, and damaged.
My Basement Repair Pro provides the most efficient sump pump inspection services in your area, by a team of skilled & experienced professional contractors.
12 Points We Take Care of While Inspecting a Sump Pump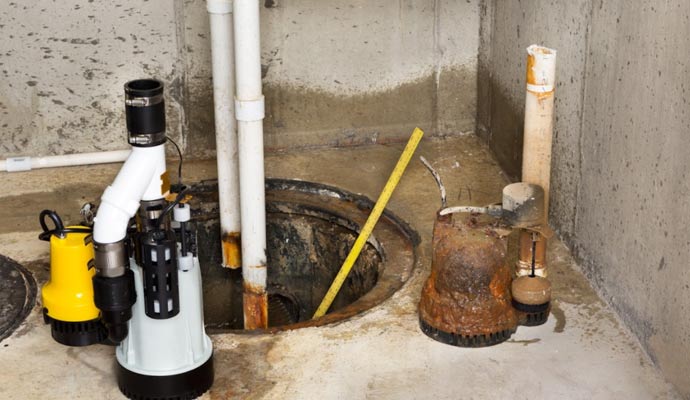 Clean Sump Liner(s)
Clean Pump(s)
Check Valve
Replace Alarm Battery
Inspect/Clean Ports
Check DownSpouts
Water Test Pump/Switch(s)
Check/Flush Discharge Line
Check/Test Backup Battery
Flush System/Flood Test
Inspect Foundation Exterior
Check Voltage on Battery Backup
Find Your Local Basement Waterproofing Contractors
Importance of Regular Inspection
Many sump pump owners tend to ignore the importance of a routine inspection of their sump pumps, although, there is an alarm to inform if it loses power, gets clogged, or stops working for any reason. However, your pump can stop working without you knowing it if the alarm stops working, leading to serious damage and flooding. Therefore, it is wiser to have a routine inspection such as once in 3-4 months or at least once a year.
Why Choose My Basement Repair Pro?
My Basement Repair Pro screens and provides professionals who specialize in basement waterproofing, crawl space repair, crack repair, finishing, sump pumps, and other basement issues. These are local companies who have shown a track record of helping homeowners like you, make the basements dry and safe. Whether you have a finished or unfinished basement, we can provide the appropriate professional help in your area, to solve your basement issues. Contact us today or call us at 844-406-0501 to know further details.