Sump Pump FAQ's
Below are some FAQs on sump pumps. If you have any questions, that weren't answered in this section, feel free to contact us or call us at 844-406-0501.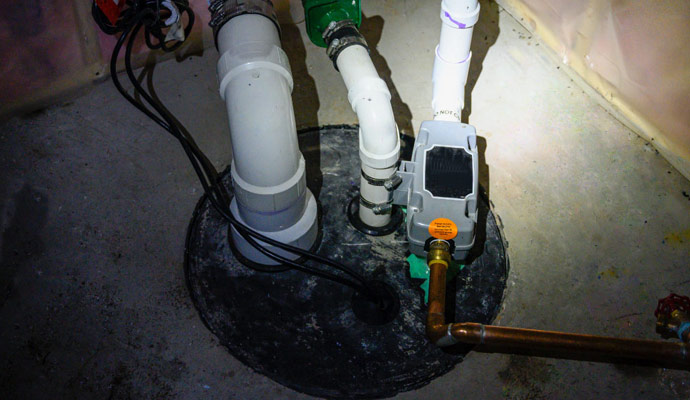 A sump pump installation plays a vital role in keeping a basement or crawl space dry. It actively pumps water out and away from your foundation, preventing water damage as well as mold growth.
Most sump basins are 18-25 gallons. Generally, a larger basin is better because it will allow the pump to run less frequently and longer, increasing the life of the pump.
A check valve is a one-way valve that discharges water away from your basement or crawls space. It is designed in a way that once the water is done pumping or interrupted due to a power outage, any remaining water will not fall back into the sump basin.
Most sump pumps rely on a power source to run, and will evidently stop working if there is a power source. However, you can opt for a battery backup that will help it run even when there is no electricity from the main power source.
A battery backup is an excellent choice to ensure your sump pump continues pumping water out during stormy days when there is no electricity from the main power source. This can prevent the worst cases of basement flood scenarios.
The size of the sump basin, the height that is required to be pumped, the flow rate of water in the basement or crawl space, and other factors are taken into consideration when choosing horsepower. Your local My Basement Repair Pro Contractor can suggest you sump pump containing the optimal horsepower your home would need after thorough inspections.
Find Your Local Basement Waterproofing Contractors