Causes of Sump Pump Failure 
Sump pumps are installed in many homes in the basement or crawl space as a preventative measure to avoid indoor flooding and water damage. It is one of the easiest and most cost-effective ways to put an end to flooding or wetness below the home. Regular maintenance and repair of your basement sump pump is a crucial plumbing activity that will help you minimize water accumulation in your house.
My Basement Repair Pros is your go-to company for availing of the most professional services in case of a sump pump failure in your area. We have a team of expert technicians to provide our customers with the most professional services that will not only match but also exceed your expectations. We provide excellent waterproofing services including drainage systems, sump pump installation, crack repairs, and more.
Reasons behind a Sump Pump Failure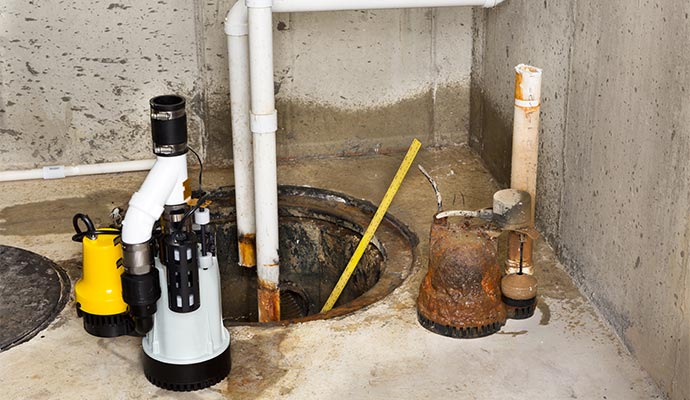 Overwhelmed Pump: If your sump pump isn't of the right size, it might not be able to handle high volumes of water, which can leave you with a flooded basement. Sometimes a single pump isn't enough.
Pump Burn-out: A sump pump can burn out because of a faulty float switch or an overworked, underpowered pump. Cheap pumps made with inexpensive materials and components are prone to sump pump failure, especially when they're needed most during extremely wet weather.
Power Loss/Outage: There are several reasons why a pump might lose power. It could be a tripped circuit breaker, unplugged pump, or power outage. No matter what the reason, a normal sump pump doesn't function unless there's power.
Clogged Intake: When the intake becomes clogged, this prevents the pump from extracting water from the sump pit or sump liner.
Frozen/Clogged Discharge Line: The discharge pipe is what carries water from your sump pump to outside the home. The pipe can become clogged with dirt, rocks, roots, and other debris. In the wintertime, any water in the discharge line can freeze and clog the system.
Why Choose My Basement Repair Pros?
My Basement Repair Pros screens and provides professionals who specialize in basement waterproofing, crack repair, finishing, sump pumps, and other basement issues. These are local companies who have shown a track record of helping homeowners like you, make the basements dry and safe. Whether you have a finished or unfinished basement, we can provide the appropriate professional help in your area, to solve your basement issues. Contact us today or call us at 844-406-0501 to know further details.