Mold, Dust Mites & Odors Removal in Your Area
My Basement Repair Pro is the most trusted company for providing mold, dust mites & odors removal services in your area. Our professionals work in conjunction with you, the property owner, the insurance representative, and an industrial hygienist to formulate the most effective and efficient course of action following the IICRC S520 guidelines.
Often, the first signs of mold are visible, blotchy stains found on the floor, walls, or around the plumbing pipes in your home. However, mold is not always visible. Other warning signs may include higher levels of moisture and condensation or a persistent musty odor.
In order to make sure there is no moisture left in between your walls, in the ceiling, or in the cracks of the floor- you must hire a professional to get the drying done as required. The professional contractors of My Basement Repair Pro use commercial air movers and dehumidifiers to reduce the inside air humidity to below 55% (the point at where certain types of mold can start to grow). We will also track progress with monitoring equipment.
Moist, Damp Spaces Breed Dust Mites & Mold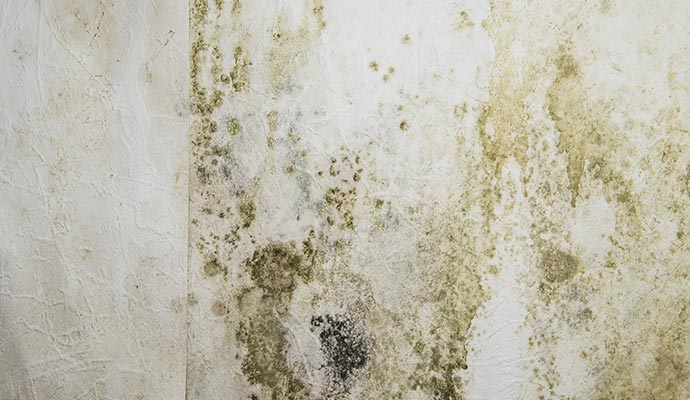 Mold thrives in moist, dark environments, with a food source of organic materials to consume, and dislikes the sun and dry areas. Mold growth usually starts below ground level, in your basement or crawl space area.
Dust mites also thrive in similar conditions. While their presence is merely an irritation, their microscopic feces pose a serious health hazard equal to mold spores. Dust mites can cause respiratory issues, just like mold. These microscopic creatures defecate up to 20 times per day, with each mite creating waste the weighs up to 200 times its own body weight.
Mold is not only responsible for damaging building materials and possessions, but it can also affect your family's health. Mold can cause breathing problems and can trigger asthma, allergic reactions, or other respiratory ailments.
Need of Professional Dehumidification & Drying Service
What to do if you find water or condensation in your crawl space? Time is of the essence here. Removing water quickly keeps damage to a minimum – less time for the water to penetrate walls, floors, and anything else in its path. After removing water, the crawl space may look dry, but there is a good chance they are still retaining moisture.
Most building materials are porous and will retain significant water; this water retention will cause building materials to warp, swell, or break down and can also cause mold damage. So it is essential to dry and dehumidify properly with air movers, fans, and dehumidifiers.
Find Your Local Basement Waterproofing Contractors
Why Choose My Basement Repair Pros?
My Basement Repair Pro screens and provides professionals who specialize in basement waterproofing, crack repair, finishing, sump pumps, and other basement issues. These are local companies who have shown a track record of helping homeowners like you, make the basements dry and safe. Whether you have a finished or unfinished basement, we can provide the appropriate professional help in your area, to solve your basement issues. Contact us today or call us at 844-406-0501 to know further details.