Mold, Dust Mites & Odors in Basements
Poor moisture management in a basement might lead to mold growth and the development of dust mites. Other reasons such as water leaks and improper drainage may also cause water damage in the basement resulting in mold, dust mites, and foul odors.
If you notice a moldy odor coming from your basement, there might be mold lurking somewhere. The experienced professionals from My Basement Pro offer exceptional moisture control services that allow you to maintain an environment that is inhospitable for mold. We have the resources to prevent mold from growing in your basement. We also provide dehumidification that reduces humidity and is another step toward mold prevention. Call us at 844-406-0501 when you are facing mold or pest issues in your basement.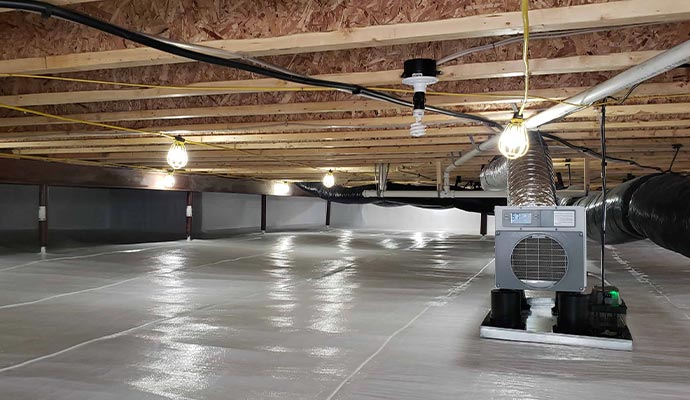 Advanced Dehumidification & Vapor Barrier
Most building materials are porous and will retain significant moisture; this water retention will cause building materials to warp, swell, or break down. This might also cause mold damage. Proper dehumidification eliminates the extra humidity and moisture, discouraging mold growth.
Additionally, we use a vapor barrier to secure and seal off your basement to preserve its condition. The vapor barrier creates an additional envelope of protection against excess moisture & humidity. This also helps you save energy, lower your energy bill, and improve your home's overall energy efficiency.
Protect Your Basement Against Mold, Dust Mites & Odors
Moisture in your basement is the main cause of troublesome mold growth, dust mite invasion, & unpleasant smell. However, with superior moisture control services from My Basement Pro, you can protect your basement from such issues. All you need to do is find your local My Basement Pro contractor, and our certified team will do everything necessary to improve your basement's health. Call us NOW at 844-406-0501 to talk to one of our representatives.