Whole-House Dehumidification System
Moisture promotes the growth of mold and mildew in your home. This is a common issue in large homes where moisture may be difficult to control. You are in desperate need of a whole-house dehumidification system at that time. Dehumidification can help to mitigate the effects of moisture on air pollutants.
My Basement Pros is the most dependable company for installing dehumidifiers in your home or office as a moisture-control step for property owners. We have a team of highly skilled professionals ready to provide the best moisture control services in your area. Our certified specialists understand the details of dehumidification and can provide proper care for your basement. Click here to get your local contractor.
Benefits of Dehumidifiers in Whole-House System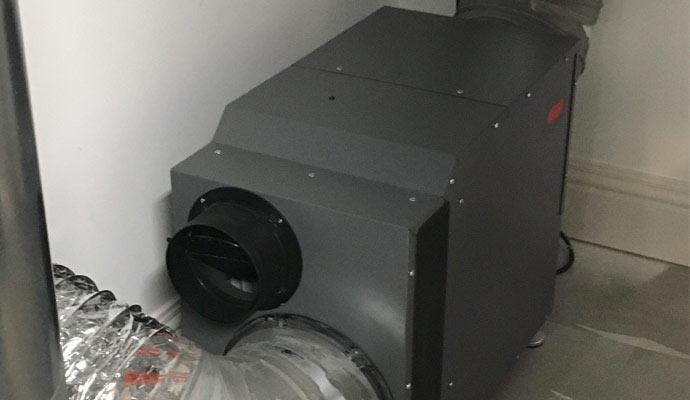 The followings are some of the benefits of dehumidifiers in A whole-house system.
Comfort: When the air in your home is too humid, it causes a sticky, damp feeling on your skin, which interferes with your body's natural cooling processes and makes you feel hot and sweaty.
Reduced Utility Bills: When there is too much moisture in the air, your air conditioner has to work harder to cool your home. Lower humidity allows your HVAC unit to work less hard, and your utility bill will reflect this!
Protection from Excess Moisture: Excessive humidity in your home can cause paint to bubble, mess up furniture, and water damage to your walls or floors.
Deodorizing: Mold, rot, and fungal growth are all possible in a home with excessively moist air. This growth can cause structural damage as well as bad odors in your home.
Why Choose My Basement Pros?
My Basement Pros screens and provides professionals who specialize in basement waterproofing, crawl space repair, basement finishing, sump pumps, and other basement issues. These are local companies who have shown a track record of helping homeowners like you, make the basements dry and safe. Whether you have a finished or unfinished basement, we can provide the appropriate professional help in your area, to solve your basement issues. Contact us today or call us at 844-406-0501 to know further details.