Crawl Space Flooding
Crawl spaces are the most ignored area in a house. Because crawl space issues are concealed, most individuals ignore them. It is regarded as a home's storage space by many. The most difficult challenges, however, are those that are hidden. A flooded crawl area can cause structural damage and make life difficult for you.
Call the efficient contractors of My Basement Pros if you think your crawl space has flooded. The sooner you begin the process of drying out your crawl area, the better. In the long run, it will save you time and money. Find local contractors from your area today by simply clicking on the link and thoroughly solve your crawl space flooding problem without much hassle. Contact us online or call us at 844-406-0501 for further details!
Common Causes of Water in Crawl Spaces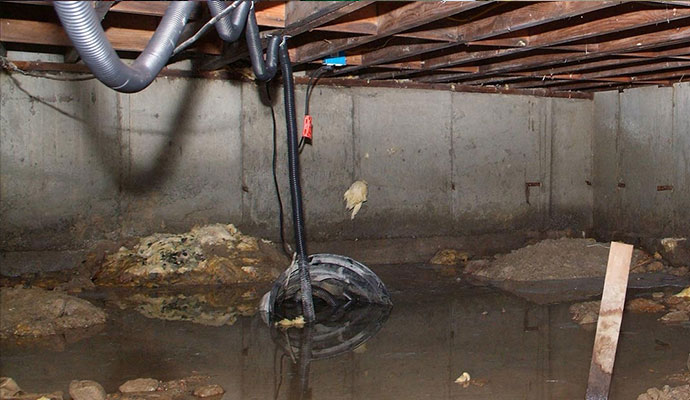 Foundational Cracks or Gaps- Settling a house is a natural part of its aging process. While this is a natural occurrence in all homes, it can lead to foundation fractures or damage over time. Any fracture or gap in your foundation will impair its ability to tolerate water and 
Water may seep into your crawl space as a result of this. This may lead to flooding of your crawl space!
Leaking Window Wells- Most basements and crawl areas include open vents and windows. Water will seep into this region, known as the window well if any form of gap or void arises. You'll have to deal with the fallout once it happens.
Faulty Water and Sewer Lines- Faulty sewer lines can contribute to crawl space flooding.
Clogged or Overburdened Drains- Clogged or overburdened drained can also be one of the reasons your crawl space might get flooded.
Find Your Local Basement Waterproofing Contractors