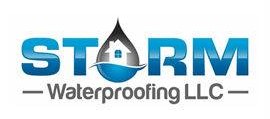 Basement Services Professionals in Linthicum, MD
Are you tired of your basement being wet or flooded? At Storm Waterproofing, we can help solve and prevent such problems. We are a family-owned and operated waterproofing company founded by a third-generation basement waterproofing expert. With more than 20 years of experience, we offer the Baltimore Metro area exceptional basement waterproofing and crawl space encapsulation services. We aim to give you a home that is dry, healthy, and safe. You can trust that we use state-of-the-art waterproofing techniques. For a free estimate, call us at (443) 365-2587.
We offer the following services at Storm Waterproofing:
Basement Waterproofing
Foundation Repair
Sump Pumps
Crawl Space Encapsulation
Mold/ Mildew
Understanding Your Basement and Foundation
As years go by, a home's foundation can shift and membranes can crack or separate. Thus, water has a way to seep into your home. Wet or damp basements can lead to mold and mildew. Mold and mildew can pose a risk to those in your home, as they can cause respiratory problems, bacterial infections, and allergies. Cracks in your foundation can also provide a way for pests, such as cockroaches and termites, to enter your home. These pests can cause an even larger problem to your home's structure. Waterproofing your basement can prevent these problems in your home.
The following signs may indicate you need to waterproof your basement:
Cracked bricks
Powder residue on walls
Humidity
Standing water
Mold or mildew
If you have water damage or leaks in your basement, or you think your foundation and basement are at risk, turn to us first! Contact us today at (443) 365-2587 for more information. We can come and evaluate your basement and foundation to determine what can be the best solution for your home. Our team looks forward to making your home completely functional and waterproof.
Why Choose Us?
We are fully licensed, bonded, and insured have over 20 years of experience
We offer free estimates
We offer transferable lifetime guarantees that are built on 3 generations of basement waterproofing experience
We offer 24/7 emergency service
We use state-of-the-art waterproofing techniques
---
Services Provided by Storm Waterproofing LLC
Basement Waterproofing
Crawl Space
Dehumidifier
Foundation Repair
Sump Pumps
---
Customer Review for Storm Waterproofing LLC
(5.00 out of 5) -
1 review
Positive: Professionalism, Punctuality, Quality, Responsiveness, Value Storm Waterproofing did a beautiful job. We had...
Review Source: