Interior Basement Waterproofing Services in Your Area
My Basement Repair Pros is the most trusted interior basement waterproofing service provider in your area. We have a pool of highly trained and experienced basement waterproofing experts to serve our customers with the highest level of professional services. We provide excellent waterproofing services including drainage systems, sump pump installation, crack repairs, and more.
Requirement of Interior Basement Waterproofing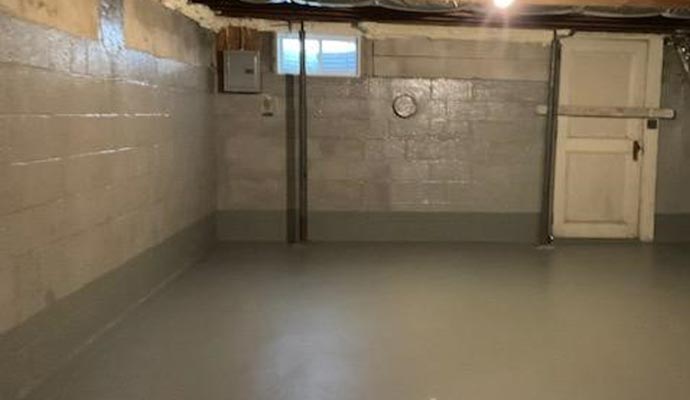 Interior waterproofing is a necessary last step, but it is not the first. We understand the importance of home safety, and we proudly offer a complete line of basement waterproofing solutions.
Over the year, water collects in the soil around your home. This increases the hydrostatic pressure that constantly pushes against your basement walls. If not properly relocated, outside moisture will create enough pressure to leak through even the smallest crack. Sealing off those cracks with our lifetime guaranteed sealant will prevent the cracks from expanding and letting more water through. For additional fortification, we will apply a damp-proofing layer to the interior foundation wall.
Interior Basement Waterproofing Process
Interior waterproofing is one of the last lines of defense against outside water. We apply a damp-proofing layer to the inside of the walls to protect against seeping moisture. Then, we insulate it with another layer that keeps heat in, while also fortifying the wall against increased hydrostatic pressure.
With decades of combined experience, the technicians of My Basement Repair Pros are now master installers and they will seal the edges of the damp-proofing layer and completely cover the inside wall. If the edges are not properly sealed, then your home will still be at risk of flooding. So, it's important to call the experts.
Why Choose My Basement Repair Pros?
My Basement Repair Pros screens and provides professionals who specialize in basement waterproofing, crack repair, finishing, sump pumps, and other basement issues. These are local companies who have shown a track record of helping homeowners like you, make the basements dry and safe. Whether you have a finished or unfinished basement, we can provide the appropriate professional help in your area, to solve your basement issues. Contact us today or call us at 844-406-0501 to know further details.