Bathroom Installation Services in Your Area
Basements have come a long way from when they were used exclusively for storage. Now, basements are frequently finished and used as spare bedrooms, game rooms, and exercise rooms. But one aspect of basement remodeling and repurposing that sometimes gets neglected or forgotten is adding a bathroom. While it may not seem like a big deal to have to go upstairs to use the bathroom, it can make spending time in your (expensively) finished basement a major inconvenience.
However, there are unique challenges to adding bathrooms to basements, so it's important to be aware of those potential pitfalls before you begin the process. Thankfully, installing bathrooms in basements can be easily done with the help of an experienced contractor and plumber.
My Basement Repair Pros is the most reliable company for bathroom installation services in the basement, in your area. We have a team of expert technicians to provide our customers with the most professional services that will not only match but also exceed your expectations. We provide excellent waterproofing services including drainage systems, sump pump installation, crack repairs, and more.
Things to Know Before Installing a Bathroom in the Basement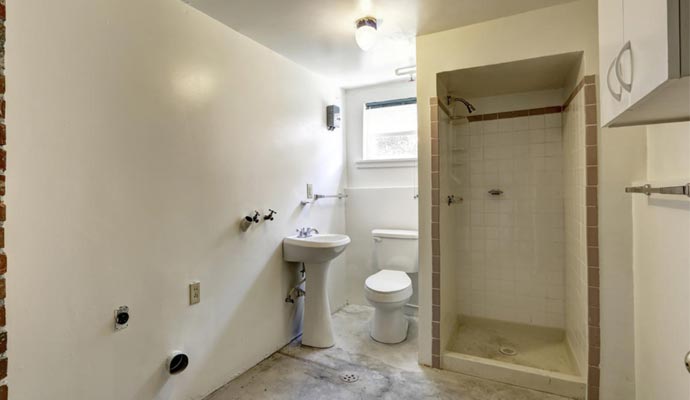 Adding bathrooms to other areas in your home is a much more straightforward process compared to adding a bathroom to your basement. Because basements are typically partially or completely underground, they will require specialized plumbing and other unique considerations to function properly. Some important and overlooked aspects of this home renovation project include:
Will the bathroom be located near existing plumbing and wiring?
Do you need a shower or tub?
Is your sewer line deep enough for easy drainage?
Do you need a special toilet?

If you are not sure or cannot find the right answers to these questions and for any other queries regarding installing a bathroom in your basement, contact My Basement Repair Pros today.
Why Choose My Basement Repair Pros?
My Basement Repair Pros screens and provides professionals who specialize in basement waterproofing, crack repair, finishing, sump pumps, and other basement issues. Our team consists of those local companies who have shown a track record of helping homeowners like you, make the basements dry and safe. Whether you have a finished or unfinished basement, we can provide the appropriate professional help in your area, to solve your basement issues. Contact us today or call us at 844-406-0501 to know further details.