Space Planning Ideas
My Basement Repair Pros contractors can help you plan your basement space ideally and affordably. We will consider your furniture, refrigerator, TV, or any other belongings you wish to move to the basement. They understand that your basement will often time be a great hangout spot for your friends and family. Thus, optimal space is required to ensure everyone has a great time.
We are the leading network of basement professionals who have been helping homeowners make the most out of their basements. They can completely change the look of your basement. Apart from the visuals, our contractors can create a relaxing environment for you and your loved ones. My Basement Repair Pros contractors also offer basement waterproofing and basement finishing services for homeowners like you in your local area.
Basement Space Planning for Everyone
Different people have different tastes and would generally like to do something different with their own basements. No matter how stylish, simple or elegant you want your basement to look, Our contractors can plan your space to fit your needs. Here at, My Basement Repair Pros, there's something for everyone.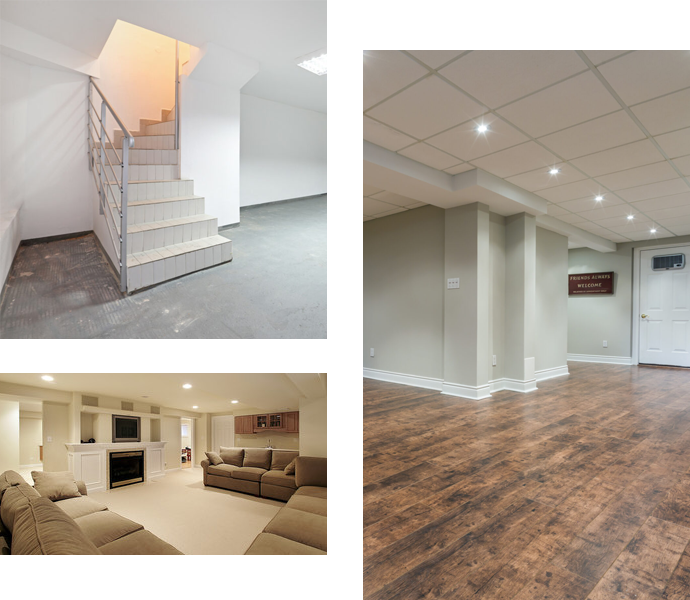 The Simple & Elegant
Many people tend to be attracted to minimalistic designs and if you are looking for something like that, you can get help on our platform. Our experienced contractors can plan your basement space to provide that simple and elegant feel you are going for.
The Gymnast
If you are a gym freak, you probably want gym equipment in your basement. Such equipment varies in size and would need proper space planning to lay them on the floor. However, our professionals can help plan your space so that you can enjoy working out in your basement.
The Band Member
When you own a band and want to convert your basement into your personal studio, My Basement Repair Pros can help you do that. Our service providers will ensure all your music and sound equipment are taken into account when planning out your space.
The Home Office
If you wish to transform your basement into your private office space, our contractors have expert crews who can plan out strategies that will allow you to fit your desk, important notes, documents, files, or more and still have space left to roam around.
Find Your Local Basement Waterproofing Contractors
Connect With Our Contractors for Excellent Basement Space Planning Ideas
Our licensed foundation and basement repair contactors can help you with optimal space planning ideas that will surely meet your needs. No matter what you want to do with your basement, we have the right service provider who can strategize a space planning for it.
To learn more about our platform you can contact us at 844-406-0501 or can find your local contractor from here. All you have to do is type in your zip code, select the nearest local contractor and help will be on your way in no time.