Kids Playroom Basement Design Ideas from My Basement Repair Pros
You can transform your boring and dirty-looking basement into a cheerful and vibrant atmosphere for your children to play in. My Basement Pros has the required expertise, resources, and experience to redesign your finished basement in order to turn it into a friendly environment for your kids. However, if you haven't finished your basement yet, our professionals can do it for you!
My Basement Repair Pros is the leading network of basement professionals who have been helping homeowners fix their basement-related issues for over a decade. You can completely trust our experienced experts to take proper care of your basement. When you need our services, give us a call at 844-406-0501 or contact us online.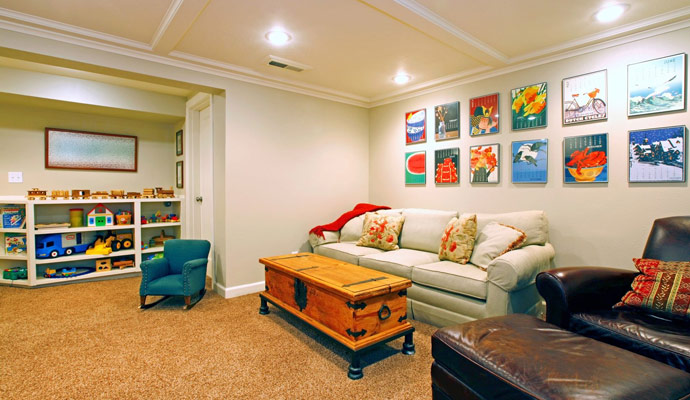 Kid-Friendly Basement Designs
We can completely change the look of your basement. Apart from the visuals, we can create a relaxing environment for your loved ones. Whether you want to make a study room, a castle-themed basement, a toy hanger, or more, we can help you achieve it. Furthermore, we can help you get creative too. For instance, adding a slide along the regular staircase makes the entire room more interactive and enjoyable for your dearests. We have many more design ideas that your kids will enjoy.
Custom Themed Basement Environment
The top 3 things that children love are usually their favorite superhero, sports car, or barbie. Now imagine giving your basement a superhero-inspired theme or a Disney princess theme. A themed basement makeover will surely put a big smile on your little one. Colorful wallpapers, vibrant colors, and beautiful design ideas can bring the whole place to life.
Find Your Local Basement Waterproofing Contractors
Contact Us for Exclusive Kids Playroom Ideas in Your Local Area
When you are exploring design options for your basement, make sure you call My Basement Repair Pros. We can offer you exclusive design ideas that are colorful, kid-friendly, and cost-effective. We are available right here in your local area. Just give us a call at 844-406-0501 or find your local My Basement Repair Pro Contractor.