Santa Fe Dehumidifiers for Residential Homes
Too much humidity & moisture in the basement makes it a breeding ground for mold, pests, dust mites, as well as harmful bacteria. To protect your basement, home, & family from such invasions, My Basement Pro offers powerful solutions. One of our techniques is using dehumidifiers. But, we don't use just any dehumidifier, we use only the best in the industry; Santa Fe dehumidifiers. 
Santa Fe is one of the most energy-efficient dehumidifiers in the market for basement dehumidification. They are highly effective at eliminating moisture problems in humid basements & crawl spaces. Moreover, they are widely popular for their large capacity & compact sizes, which come in various models, suitable for different homeowners' needs. 
My Basement Pro contractors are available all around the United States and can install authentic Santa Fe dehumidifiers in your basement. Give us a call TODAY at 844-406-0501 to get started!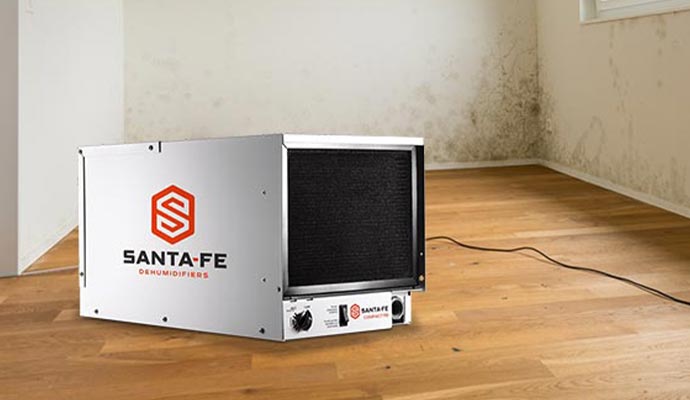 Benefits of Choosing Santa Fe Dehumidifiers
Santa Fe dehumidifiers for residential applications have many benefits in both usability and performance. For instance, they have simple controls to maintain humidity levels. They are also customizable to work flawlessly with any basement structure. Furthermore, Santa Fe dehumidifiers are backed up with a 6-year warranty, providing year-round comfort.
Additional advantages of choosing Santa Fe dehumidifiers:
Backed with a 6-year warranty.
Designed to create healthy living spaces.
Engineered & tested to the highest standard of quality.
Every Santa Fe unit exceeds Department of Energy standards.
Equipped with the best filtration technology in the industry. 
Efficient moisture control prevents the home's structural issues.
Powerful Dehumidification for Your Basement
Whether you have a finished basement or an unfinished one, My Basement Pros can take care of humidity & moisture problems for you. Our professionals are actively serving in every state of America, eliminating countless basement problems. If you notice mold issues, pests, a musty smell, and excess moisture in your basement, call us at 844-406-0501 to find a certified My Basement Pros contractor in your local area.