Basement Finishing FAQ's
There is a pool of rumors and myths regarding a basement finishing process and the energy-saving features. Some common misconceptions and questions about basement finishing are answered below.
Q #1: How Does Basement Finishing Benefit Me?
A finished basement has a cleaner, fresher, and healthier environment. It is so clean, one can even choose to set up a bed and sleep there. Additionally, you reap the benefits the saving utility bills on heating and cooling.
Furthermore, once your basement is finished, you can choose to transform it into a: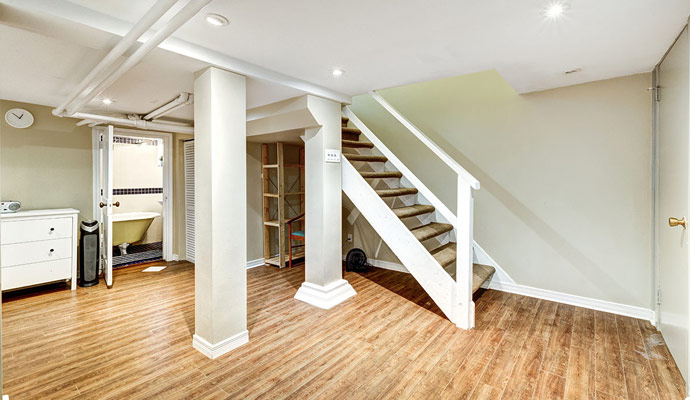 Library
Trophy Room
Gaming Room & More
Q #2: Who Will be Handling The Basement Finishing Project?
Experienced and certified basement contractors will handle the entire project with expertise and state-of-the-art equipment. 
Q #3: Can I Add Insulation to My Finished Basement?
Yes. Our specialists can set up basement insulation that will help save heating and cooling costs.
Q #4: Will Basement Finishing Increase my Utility Bills?
A basement finishing usually includes setting up insulating properties that allow you to save on heating and cooling bills. Thus, it can help you save money instead.
Q #5: Can My Basement Repair Pro Contractors Redesign and Layout My Basement?
Yes. We can help you plan out your space, basement layout, and more. Additionally, we have thousands of wonderful basement design ideas just for every type of person. 
Q #6: Can I Transform My Basement into a Man Cave?
Yes, our professionals can help you create a man cave that is fully custom-designed for you. We also take optimal space planning into considerations so that you can make the most out of your basement. 
Q #7: Will Moisture or Water Seep Through My Basement Floor?
No, our basement finishing will ensure your basement flooring is safe from water intrusion and moisture seepage.
Q #8: Will Basement Finishing Add Value to My Home?
Absolutely. Basement finishing will add significant value to your house. Additionally, a home with a finished basement is easier to sell when the time comes. After all, who doesn't like a finished basement?
Q #9: Do I Need an Egress Window?
Yes, state codes in Alabama & Florida require an egress window that should allow easy escape in case of an emergency.
Have More Questions? Contact My Basement Repair Pro Contractors Today!
If you have more questions regarding finishing your basement, feel free to call our experts at 844-406-0501 or reach us online.